The Ube Dress
When the pressure of a deadline and influences from tutors disappeared, I formed better ideas for my design concept that I wished I had thought of during class times. The Ube Dress was basically the result of having a zen mind space. It was a culmination of everything I researched about in my final year. I wrote all about the process of my final graduation collection from start to finish. There were weaving techniques, traditions, and ethnic designs within the single dress. I was so hungry for validation that I designed something that the tutors were looking for instead of what they needed to see.
The dress design was simple. I used the bones of the pattern I did for my white Barong Dress, which had the typical features of a barong – mandarin collar and button-up. Unlike my white Barong dress though, it was cut shorter. Instead of a kimono sleeve, I opted for a set-in sleeve and added a Terno sleeve finish the Filipino look. The buttons were tiny brown coconut-made buttons and it had a pocket camouflaged in the intricacies of the pattern. It was a modern twist to a Barong, Terno, and Philippine tribal design in one dress.
The fabric has a Filipino-inspired pattern, but the fabric wasn't made by any tribes of the Philippines. In fact, it was bought at Divisoria, a commercial center in Manila known for selling all sorts of cheap goods. There's a section in there solely for dressmaking. I could spend a day in there, scouting shop after shop of fabrics. We found these habi-style fabrics almost at almost closing time and had to make quick decisions (my weakest skill) about how much fabric I can buy. I was not so much worried about the price. In fact, it would still have been much cheaper to buy more than I did than what I would buy in New Zealand. The problem was the weight. The fabrics were heavy and I had a limited luggage weight available for my return to New Zealand.
To the uneducated eye, the patterns of the fabric could easily fool anyone into having a Filipino ethnic design. It did not fool me. The artisan-made fabric has a certain sheen and intricacy that machine-made can not fulfill. The origins of the fabric were also either untraceable or made outside of the Philippines. In the lens of sustainability, authenticity, and appropriation, which were all part of the design brief, I couldn't justify the use of the fabric for my University project.
"No one would know," I could excuse. I didn't. There are enough Filipinos out there, especially on social media, to question and make those comments.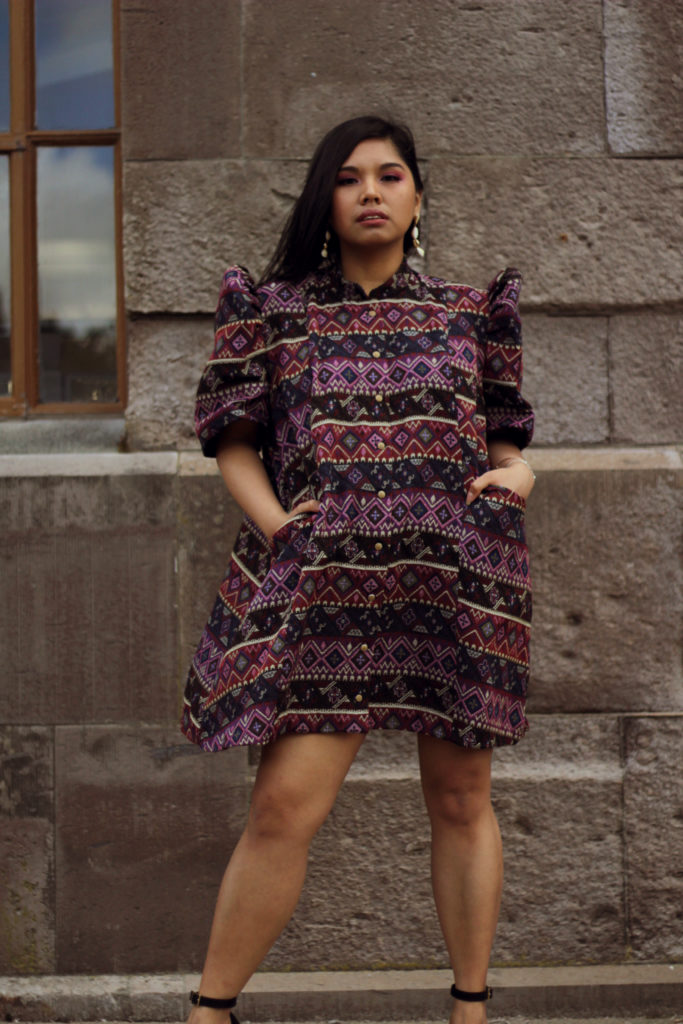 But there are no more grades to achieve anymore and I have no clients/customers I need to stay transparent to. I can design for myself without having to appropriate the tribes of the Philippines. I just simply loved the fabric. So I made the Ube Dress.
Ube. A purple spud related to the most internationally known orange sweet potato. Native to the Philippines, this sweet thing dominated all sorts of foods mostly desserts. It is an ice cream or a cake flavor. It's also a jam. It's can be a cookie or pan de sal. It can also be your next bubble tea flavor. I grew up eating it and I miss having it. Now it's a name of a dress.
This dress did attract more attention than any of the pieces in my collection. It's stunning and more wearable. It's also unique in the New Zealand setting, which attracted the eyes of the women who were used to seeing plain janes from fast fashion retailers. I wore it out after graduation and I spotted a group of women at the pub looking at the dress as I woke past them. It also made its way to Paige in Palmerston North a city way beyond Wellington borders, who introduced herself as a fan of the dress. It also went all the way to Hamilton, even further north of Palmy, for it to be worn at an after-party.
Styling the dress is just as you would any tent dress. For an edgier vibe, I have worn it with black business socks and chunky sole black lace-up shoes. For seasonal wear, high knee boots in the winter or sandals in the summer. Change it up by completely opening the buttons to layer over a T-shirt and pants or shorts. Close it again to style it on top of skinny pants. Possibilities are non-stop. But I shall leave you with these photos of a more dressed-up style I did two years ago for my graduation fashion show worn with ankle-strapped heels and a chauffer's hat.