New hot spot in the heart of Wellington, The Evil Twins Coffee have come out to play
Probably the cafe I go to the most lately is the Evil Twins Coffee. Trendy, cool, and chill are probably the words I'd describe this little cafe. New to the streets of Wellington, Evil Twins Coffee understood that they're in the most competitive cities for coffee. Home of the coffee snobs, I mean drinkers, Wellington has some of the best places for coffee drinkers like myself. But the Twins have come out to play and I am obsessed.
First I was lured by the aesthetic. Different from the modern monochrome, concrete, and wood interiors of many city cafes, the Twins are very urban and took the streets into the cafe world (or the cafe into the streets as they started as a pop-up cafe on Vivian Street). My obsession with streetwear lately definitely influenced my curiosity to find them on Willis street, a few doors up Capital Market food court. Decked out in ambient lights and hanging merchandise, it's like the Internet has come to life and became a cafe. There's a graffiti wall where, just next to it, a neon light encouraged customers to write on the walls. I've yet to make my mark on it, though. Seats are few that I always find it encourages me more to talk the twins, owners Natalie and Stephanie, and get to know them a little bit. Does it help you finish your to-do list? Not really. Evil of them, right? But it's not the cafe for corner sitting, with your laptop up and head phones on.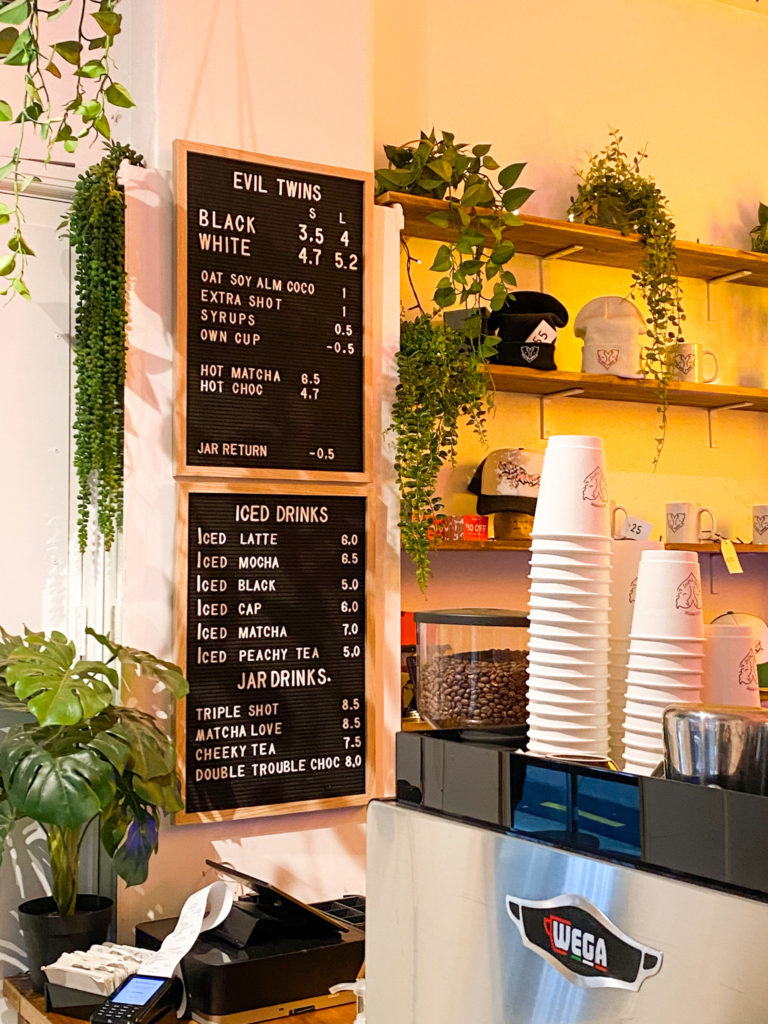 Then there's the coffee. Sourced from a Peruvian farm and roasted in New Zealand, their Evil Blend is medium-dark hinting drinkers with chocolatey, fruity taste. My kind of blend, actually, for my kind of coffee: black, no sugar, no milk. The girls always make their coffee right. I had never had a coffee burned or water downed from them. Nearly every time, brewed to ultimate perfection. Worth breaking my promise not to buy coffee outside anymore to save. Even more evil is stocking up on Por.no Donuts, another Wellington favorite (and a story for another time), on Wednesdays and Saturdays. They also offer jarred drinks of varied flavours but I've yet to taste. I do see so many of their customers go for it, though. The jar is really well designed too. With a background in design, the jars can be used even after the drink is devoured or photographed for that social media life.
What really brings me back, though, if all I mentioned were not enough, is the warm reception I always receive from Natalie and Stephanie every single time no matter how early or late I come. The aesthetic may be Evil, but the girls are not that at all. They're so friendly and charismatic that we could spend a good half an hour (probably more) chatting about different things. One time we talked about ghosts (true to their brand I suppose). They knew my drink as I come in – always a sign that not only was I a regular, but that the baristas pay attention. I had my years of experience in coffee making that I know customers love it when I know them and their drinks (and sometimes the time they come in). So it's great experiencing it as a customer myself. I hardly get that from many cafes now.
Whatever it is, the Evil Twins have lured me into their space and I don't mind. I will happily visit everyday, perk me up in the morning with their coffee and a bit of TMI. Okay maybe not a lot.